We are blown away by this cake from Whisked by Mukta
A spellbinding dessert experience: A Harry Potter cake that's as delicious as it is enchanting.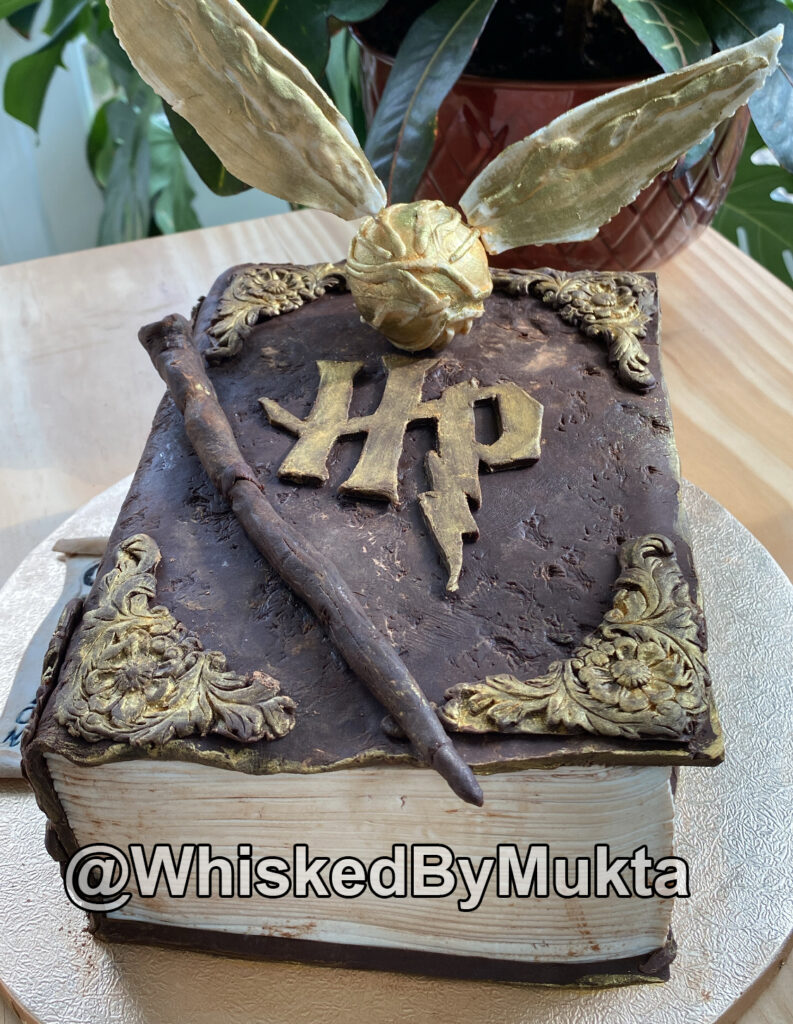 Yes, this is really a cake.
When it comes to Harry Potter-themed desserts, most people might think of butterbeer cupcakes or Hogwarts house-colored macarons. But one baker has taken things to a whole new level with this epic cake that looks like a tome straight from Hogwarts.
At first glance, it looks like it belongs on a movie set. But a closer look reveals that it's actually a cake, crafted with incredible attention to detail. The "cover" of the book is made from molding chocolate and decorated with intricate designs, including the iconic "HP" lightning bolt. The "pages" were carefully crafted with coloring that matches the yellowing of historic ephemera.
The artist responsible for this magical creation is Mukta, of Whisked by Mukta, based in Fairfax, VA. Mukta prides herself on treating every customer's order as unique and special. Her goal is to create one-of-a-kind cakes and desserts that perfectly suit the customer's specific occasion. Customers are encouraged to share their vision, and she works to make that dream a delicious reality. From the initial idea conception to the use of high-quality ingredients and scratch-made desserts, expect to taste the difference in Mukta's creations.
To create this cake, Mukta used a variety of techniques to create a realistic-looking book. From the textured spine to the edges of the pages, every detail had been thoughtfully considered. It's not often that a cake can be visually stunning as well as delicious, but this cake is definitely one of those rare exceptions.
Indulging in a slice of this chocolate cake with strawberry buttercream was a truly decadent experience for the senses. The rich, velvety texture immediately melted in my mouth, releasing a flood of intense cocoa flavor that is both bold and nuanced. The natural sweetness of the chocolate is perfectly balanced by the tangy, fresh strawberries in the creamy filling, creating a harmonious contrast of flavors that dance on your tongue. The strawberry cream is light and airy, providing a delicate counterpoint to the dense chocolate cake.
As I savored each bite, the chocolate and strawberry flavors intermingled, creating a symphony of taste that is both satisfying and intriguing. The chocolate's bittersweet notes are complemented by the bright, fruity sweetness of the strawberries, creating a taste that is both complex and harmonious. The cream adds a rich, creamy texture that melts in the mouth, providing a smooth, velvety finish to each bite.
This cake is a true indulgence that was best savored slowly, allowing the flavors to fully develop and envelop the senses. It is a dessert that is sure to leave a lasting impression on the taste buds and an unforgettable memory in the mind.
Whisked by Mukta provides cakes and desserts for various celebrations such as weddings, birthdays, baby showers, and more. They specialize in creating unique and personalized cupcakes with designs such as floral, themed, and 3D. They also offer a variety of delectable desserts such as rich and indulgent brownie truffles, decadent chocolate covered oreos, crunchy chocolate dipped pretzels, and fluffy marshmallows.
To see more works of culinary art, see Mukta's website:
https://www.whiskedbymukta.com/
And just to prove that it is cake: